Six Reasons to Choose Pack Lite Foods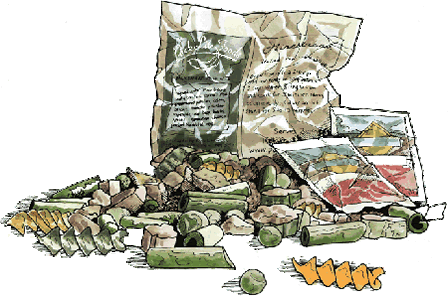 1. Light Weight

Keep your pack ultra light with camping meals specially made for outdoor travelers.  Breakfast, lunch, dinner and drinks add up to just over a pound per person per day.  Whether you're hiking, biking, canoeing or mountain climbing, Pack Lite is the smart way to go.

2. Generous Portions

Our serving sizes are large enough to satisfy the heartiest appetites, and nutritionally balanced to keep you going strong. Hikers and backpackers often tell us the portions are 'just right'.  Read what else they're saying about Pack Lite Foods in the testimonials section...

3. Homemade Taste

Pack Lite freeze dried camping foods are full of naturally good flavor. But don't just take our word for it. Here's what David Trevaskis of Anaheim, CA, had to say about our homemade taste: "Normally I have to add spices to my dehydrated foods, but yours didn't need anything at all." A taste-tester from The Lightweight Backpacker says it "tastes like freshly cut up veggies right out of the garden."

We make our meals in small batches, using the highest quality vegetarian ingredients available – like sun dried tomatoes, shitake mushrooms and Minnesota's finest wild rice – plus herbs and seasoning blends that give you great taste without a lot of salt.

4. Fast and Easy Preparation

Our one-pot dinners and hearty soups are easy to make at a campsite or on the trail. All you need is water and a pot to cook in. You'll have a delicious hot meal in about 5 minutes. Try Pack Lite's easy no-cook lunches and instant breakfasts too.

5. Convenient Packaging

Pack Lite camping meals are heat sealed in clear poly bags - strong and waterproof! The compact packaging means they won't take up much space in your backpack, canoe, or bear canister.

With an indefinite shelf life, Pack Lite products are also great to have on hand in a camper, boat, RV, or as part of an emergency food supply.

6. Group Orders Welcome

Let us do the work for you and outfit your entire group with convenient, great tasting camping food.   Volume discounts are available on Pack Lite meals to accommodate families and larger groups. Custom orders and special requests are always welcome, so give us a call when you're planning your next trip.
SATISFIED CUSTOMERS
"My husband and I just returned from a 5 day trip in the Washington Olympics. We have tried other freeze dried products and have not been happy, so we had been living on Velveeta Pasta dinners and Betty Crocker potato dishes. What a great treat to take your product on our trip! We ate dinner one night in a meadow and watched a mother and cub black bear feast on blueberries while we dined on Pasta Primavera! Then a herd of 15 elk strolled in and we had music to eat by (bugling males). We felt like we were eating an elegant meal in the wilderness while the wild life show was spectacular. We put fresh blueberries in our oatmeal in the morning. And I can't tell you how great the jalapeno cheese and crackers and humus and crackers tasted. We will be taking your product on all future trips. Keep up the good work!"

Cindy & Bruce Arnold
Renton, Washington